In December 2017 I purchased a 1937-D MS67+ RD CAC Lincoln from a Stack's Bowers auction. Imagine my surprise when I went to register the coin and it was part of the all-time finest Lincoln registry set of D. L. Hansen, the King of PCGS registry sets. Mr. Hansen has hundreds of number one sets with many like his Lincoln set are all-time finest. PCGS has a piece on him in the current Market Report magazine.
D. L. Hansen registered his first set in the fall of 2016 and in less than two years has amassed, which most agree, is the finest complete high-grade collection of U.S. coins ever assembled ... 394 of his sets are ranked number one. PCGS Rare Coin Market Report September-October 2018
There are three coins finer so I assumed he had found a MS68. He, or more likely someone on his staff, never released the coin when prompted through the PCGS email notification service so I could add it to my set. What to do? How could I knock Mr. Hansen out of his number one all-time ranking by registering my coin? I kept expecting Stack's Bowers to contact me to say they had made a mistake. After two weeks I emailed PCGS and said I wanted to register the coin but please let Mr. Hansen know if he needs more time I could wait. I don't know if my offer was passed on but the next day my coin was registered and Mr. Hansen dropped to number two. He then switched his set to private so you couldn't view it. Sometime later he had added another 1937-D at the same grade (promptly going back to number 1) and made his set public again. I find all of this very odd.
Here is my coin.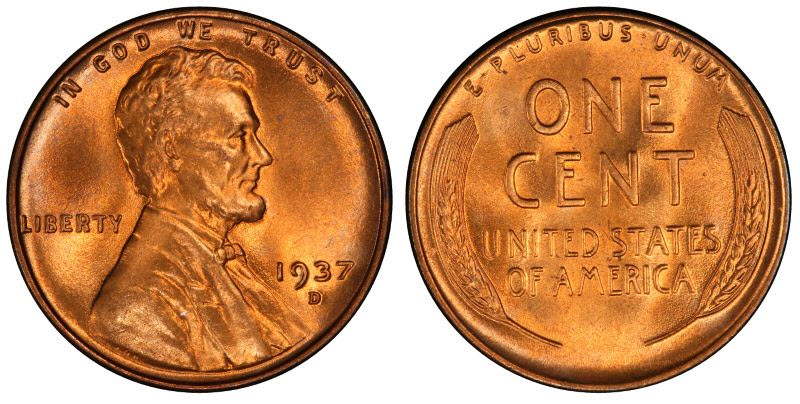 Here is the coin Mr. Hansen replaced it with.
Both are nice coins. Not sure you could say one better than the other. Early Lincolns age in beautiful tones and sometimes collectors favor one tone over another. With hundreds of registry sets to keep up with though it is hard to believe he would worry about a lowly 1937-D Lincoln. Would love to hear anyone's theories. My theory is a deal fell through for a MS68 and my coin was already consigned to auction.